Pami

Nightdream La Panza Ra
D.O.B. 21.11.1999
Breeder: Sirkka Sundström
Owner: Kristina Bergström

Father: Ch Tiddy's Truls
Mother: Nightdream Reflet Parfait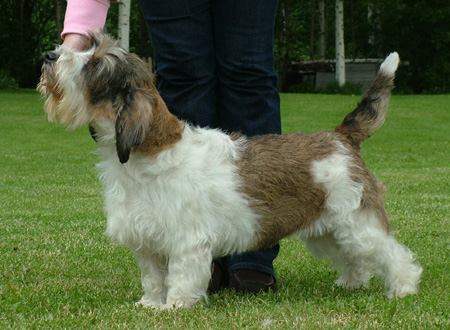 Achievements
Finnish Champion
Estonian Champion
Finnish Winner 2005
Estonian Winner 2006
Veteran World Winner 2008

#1 Show PBGV in Finland year 2005
#1 Show PBGV Veteran in Finland 2008
#2 Show PBGV Bitch in Finland year 2004
#3 Show PBGV Bitch in Finland year 2006
#3 Show PBGV Bitch in Finlan year 2008

BOB & BIG-3 at Finnish winner show 2005
BOB & BIS-1 veteran in Basset specialty 2008
Winner of champion class at Finnish Basset speciality 2004
Winner of a big Champion class and res CACIB at European winner show 2006
BOB-veteran at Finnish Winner show 2007
BOB-veteran at Swedish winner show 2008
2 x BOB + BIG 2 in Estonia
4x CAC, 11x CACIB
Several BOB's, group placements & BOB-veteran's in Finland
In Loving Memories
21.11.1999-4.9.2015

My first dog, the One who made me fall in love with this breed.
She was the easiest dog to live with and will always have a special place in my heart.
I miss you so much.

10 years from nose to tailend she shows everything that makes the breed so beautiful. Normal size & length. Beautiful head & expression. Correct body, bone & angulations. On the move the typical character of the breed.
Almost 10 year old. Lovely veteran. Feminine head & expression. Beautiful neck & topline. Correct depth of brisket. Strong loin. Very well angulated front & back. Lovely temperament. Moves as she was much younger. Lovely coat.