In Loving Memories
21.11.1999-4.9.2015
NIGHTDREAM LA PANZA RA
My first dog, the One who made me fall in love with this breed.
She was the easiest dog to live with and will always have a special place in my heart.
I miss you so much.

Pami
D.O.B. 21.11.1999
Breeder: Sirkka Sundström
Owner: Kristina Bergström
Father: Ch Tiddy's Truls
Mother: Nightdream Reflet Parfait
Titles
Finnish Champion
Estonian Champion
Finnish Winner 2005
Estonian Winner 2006
Veteran World Winner 2008
Achievements at shows
#1 Show PBGV in Finland year 2005
#1 Show PBGV Veteran in Finland 2008
#2 Show PBGV Bitch in Finland year 2004
#3 Show PBGV Bitch in Finland year 2006
#3 Show PBGV Bitch in Finlan year 2008
BOB & BIG-3 at Finnish winner show 2005
BOB & BIS-1 veteran in Basset specialty 2008
Winner of champion class at Finnish Basset speciality 2004
Winner of a big Champion class and res CACIB at European winner show 2006
BOB-veteran at Finnish Winner show 2007
BOB-veteran at Swedish winner show 2008
2 x BOB + BIG 2 in Estonia
4x CAC, 11x CACIB
Several BOB's, group placements & BOB-veteran's in Finland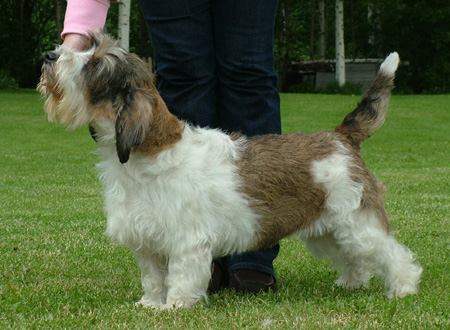 10 years from nose to tailend she shows everything that makes the breed so beautiful. Normal size & length. Beautiful head & expression. Correct body, bone & angulations. On the move the typical character of the breed.
Almost 10 year old. Lovely veteran. Feminine head & expression. Beautiful neck & topline. Correct depth of brisket. Strong loin. Very well angulated front & back. Lovely temperament. Moves as she was much younger. Lovely coat.